Protection 1
Protection 1 is the nation's largest full service electronic security company. Protection 1's massive infrastructure enables it to provide very affordable home security plans to consumers, starting at just $34.99/month, and to deliver excellent customer service. They offer installation, maintenance and monitoring for both single and multi-family dwellings, and businesses.
What Monitoring Services Are Provided By Protection 1?
Protection 1 offers home and business security systems including intrusion detectors for homes and businesses; cellular backup allowing wireless signals when land based phone lines are disabled or unavailable; and wireless security systems. The company also offers LifeLock Identity Theft Protection, a variety of controls and keypads for home security systems, wireless smoke detectors, and the eSecure option that allows remote home security monitoring from smart phones or computers. Security cameras for businesses, multi-site location solutions, and state-of-the-art Stream MonitoringSM for businesses. They monitor a business's data stream and identify anything that should be cause for concern, generating easy-to-understand alerts and reports. Specific security resources for retail stores, warehouse and manufacturing locations are also available.
What Benefits Does Protection 1 Offer?
Protection 1's nationwide capabilities allows both custom designed security systems and national equipment and resources. The company provides security systems, professional installation using licensed technicians, same day local service, and 24/7 monitoring.
Monitoring services utilize five company owned centers that offer alarm monitoring, tech services, and service dispatch. Their system provides three levels of monitoring: through primary, back up, and an off-site location.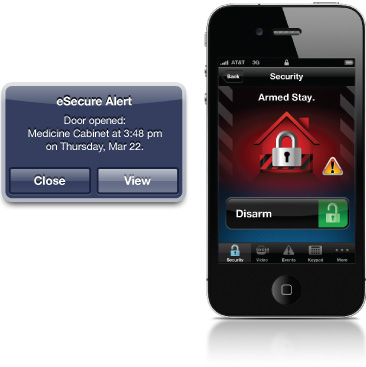 Protection 1 offers customer service with no automated attendant. When you call them a live person answers the phone within just a couple of rings. No navigating through a complicated phone tree.
The company responds to all service calls quickly, and uses a Tech TrackerSM system so that customers receive a series of e-mails which include a picture and bio of the technician that will be providing service as well as an e-mail when their technician is leaving the previous job. There's also an advanced online service option for commercial customers, eSuiteSM, a security portal that connects customers online to their alarm activity, critical data and more.
Protection 1 also offers a $1000 Deductible Protection plan.
What Technology Does the Company Offer?
Protection 1 pioneered the PrimeCell™ for Cell Phone-Only Households, allowing security monitoring for cell phones only.
Another technological innovation Protection 1 offers is SecureIP for VoIP homes, for customers with networked IP phone systems; SecureCell for land line connection; and a variety of easy to read control panel key pads, a touch screen keypad with 2 way voice, and a bi-directional key fob for remote system programming.
Protection 1 also offers eSecureSM remote access which puts the consumer in control of their home security system at all times, day or night - from anywhere. Customers can remotely access and control their security system, lighting, door locks, thermostat, cameras and video from their computer or smartphone. eSecure is compatible with most web-enabled PCs, Android phones and tablets, as well as iPhones, iPads or iPods.
What Do Protection 1 Services Cost?
While security packages are tailored for individual home and business use, the company offers monitoring services from $34.99, and free quotes are available on line.
Overall Impression
The company is focused on customer service, and offers all live operators rather than automated phone attendants. It was the first national provider to offer Web-based home security. In short, the company seems proactive toward customers, offers extensive national account, business and multi-dweller options, and its triple redundant monitoring back up approach provide advanced security services. Protection 1 is a great option for any consumer seeking a home security company that is reliable, affordable and also provides great customer support.